L‑One Offshore Model
We revolutionize offshore software development
L-One Systems is based in Darmstadt. In 2018, we set up a software development team in Damascus in Syria, i.e. "offshore."

Why Damascus? The time difference is only 1 hour and Damascus University trains highly qualified IT experts.

A win-win situation:

🚀 Our customers benefit from cost-efficient, qualified IT experts and a quick start to development.

🎓 In Damascus, we attract the best IT experts thanks to fair wages.

We offer our customers access to an attractive offshore location. But how do we revolutionize offshore software development for you? Get to know our success model:
You save your budget. We ensure your quality standards
With L-One, you benefit from the advantages of offshore software development - guaranteed reliability and no compromises.

You get a flexible contract including a satisfaction guarantee. The contractual partner is L-One in Darmstadt, Germany.

Our German team will accompany your project and ensure smooth communication and high software quality. You can find out exactly how we do this below.
A customer meeting in our office in Darmstadt with Feras Tanan (center), Head of Software Development L-One, and Valerie Dietsche (right), Head of Customer Relations L-One.
How the L‑One offshore model works
Our experts for remote software development from the Rhine-Main area build the bridge between you and our L-One developer team in Damascus.

This is how we ensure a successful collaboration:


Our Customer Relations Management in Darmstadt organizes the onboarding of the developers and supports your project.
We are in contact with your L-One development team and our customers: In this way, we ensure that both sides know how to work together optimally and what goals they are pursuing.
The team in Darmstadt supports the collaboration. We are always there for you if you have any questions or problems.
With our "Team extension" service model, we support our customers' in-house team in establishing processes for close collaboration with the L-One team.


This is how we guarantee high software quality:


Our Head of Software Development in Darmstadt manages our Offshore Developer Team together with his team leaders on site. He is regularly in Damascus for this purpose.
The experienced system architects ensure that our project teams develop high-quality software in accordance with German standards.
They also monitor the performance of the L-One developers and the quality of their work.
We train new team members in the Western work culture. This is how we build the cultural bridge for our customers.
This graphic shows what the L-One offshore model for our team extension service looks like. This is what the model for our outsourcing service looks like.
This graphic (click to enlarge) shows how your IT team works together with the dedicated L-One development team in the Team extension service model and how we support you in this.
Our success model for outsourcing customers
Does your company not have the capacity or technical expertise to manage the project and coordinate the development team? Then we recommend the "Outsourcing" service model.

You are involved in the project, but we take over the technical project management and relieve you of coordination tasks. An L-One Engineering Manager manages your project and coordinates the dedicated development team for you.

L-One takes over the technical project management:


Creation of a technical concept and the project roadmap based on your product requirements
Leading the sprint planning meetings
Definition of work packages and technical requirements
Documentation of development progress and reporting to you
Monitoring and ensuring team performance and quality of work
Our Engineering Manager Kinana explains how the collaboration works and more in this short video – watch it now!

If you opt for the "Outsourcing" service model, you will of course also benefit from our L-One offshore model:
With our "Outsourcing" service model, an L-One engineering manager takes over the technical management of your project. Our team in Darmstadt is responsible for the success of the project (click graphic to enlarge).
Get to know our Engineering Manager Kinana
How does the collaboration with L-One work? What is particularly important to our Engineering Manager Kinana Rimawi? Kinana tells us this and more in this video. Watch it now!

Curious? Learn more about our Offshore Developer Team!
Send us a message now! We'll get back to you personally within 24 hours.

Benefit from our many years of experience: companies have been developing, modernizing and scaling their software solutions with L-One since 2012 - reliably and cost-effectively.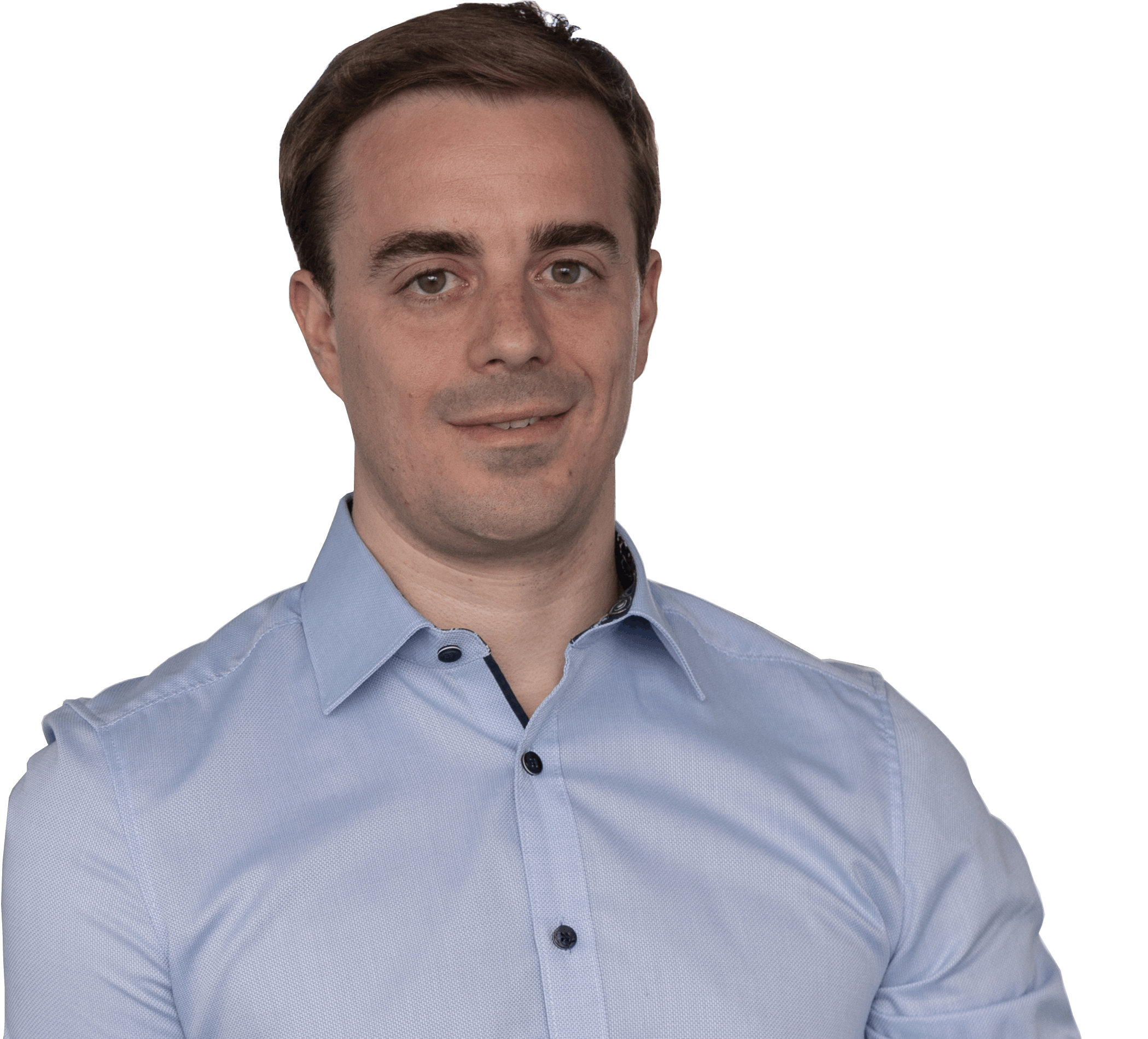 Lionel Born
CEO & Founder
L-One Systems