Offshore development with a German partner
Realize your software project – reliably and cost-efficiently
Benefit from the cost advantages of offshore software development with L-One Systems from Darmstadt - guaranteed reliability thanks to management in the Rhine-Main region and a German contract partner.

4 to 6 weeks is all it takes to put together an L-One development team that works solely on your project. 100% focus. 100% performance. This is how companies have been accelerating their software development with us since 2012.

You want to make your software project a success? We support you from the free consultation to the technical concept through to development.
Our service models for your success
As a long-standing partner for SMEs and start-ups, we know the challenges our customers face. Our service models are flexible and can be adapted to your needs. Get to know our models and accelerate your software development!
Get started with qualified development teams
Your advantages with L‑One Systems
Whether you want to tackle new development goals or a capacity bottleneck, plan a software modernization or scaling: With a qualified developer team from L-One you will achieve your goals reliably and cost-efficiently. 0 % fixed costs. 100% development power - flexible and exclusive for your project.
Consultation. Concept. Development.
Start your project with us
Our vetted development teams bring the expertise and resources to your project. If required, an L-One Engineering Manager leads the L-One project team and ensures a smooth development process.
Custom Software Development
Shorten your time-to-market and develop software that inspires. Innovative and on the pulse of time.
Master scaling and delight your customers with innovative features and high-performance software.
Unleash the potential of your software: improve customer satisfaction and your competitiveness.
Your success is our drive
Since 2012 L-One from Darmstadt has been supporting startups as well as small and medium-sized companies in their software development – since 2018 with our own offshore developer team.

Our customers appreciate the fair, transparent partnership and the small time difference to the developers (1 hour). They often work with us for the long term and we build expertise for their business case.
L-One Case Study with Agrar-Fintech
"We are growing faster thanks to L‑One"
The agricultural fintech agriBORA has been working with a dedicated L-One team since 2020. The team is growing steadily and currently consists of three developers, an engineering manager, a tech lead and a quality assurance manager.

- Why the startup chose L-One?
- How the collaboration is helping agriBORA to scale?

Find it out in this video:
Tech stack L-One Systems
Experts in many technologies
The expertise of our development team is wide-ranging – from native and cross-platform development for mobile apps to back-end development, refactoring and much more.

Whether for one project or long term: expand your in-house team flexibly with our experts. Get to know our tech stack now – or just send us a request with your tech stack!
L-One Systems
Two continents, one team spirit
From Darmstadt, we have been building bridges for you to top IT talent in a highly attractive offshore location since 2018. Our German team accompanies all client projects and collaborates daily with colleagues from our offshore development team.

The German and the Syrian team do not share the office, but the same values: with expertise, commitment and team spirit we bring our customers' projects to the finish line. – Learn more about our mission and story here.
L-One Interview
Get to know us in 2 minutes
Learn why we set up our offshore development site in Damascus in 2018 and what makes our service and team tick! Watch the short interview with our CEO Lionel Born and our Head of Software Development Feras Tanan!
Get your software project to the finish line with our skilled dedicated development teams – with team extension or outsourcing. With both service models, all rights to the developed source code remain with your company. You are unsure which model fits best to your project? Arrange a non-binding initial consultation now.
Your tech team works directly with the L-One developers. Your Product Owner/CTO coordinates the development team.
We organize the onboarding into your project.

The L-One team works in your development and communication environment (language: English).

Your contact person in Darmstadt supports the collaboration and ensures its success (communication: German or English).

We train new team members and build up know-how for your business case.

Contract according to German law
We implement your software project - from concept to go-live. L‑One takes over the technical project management.
We develop the technical concept and the project roadmap (including prototype if required).

We manage the development from concept to release (agile working method in sprints).

You receive regular updates on the progress of the project and can provide feedback.

Regular releases are possible.

We are responsible for quality assurance and software testing.

Project responsibility in Darmstadt: Your contact person accompanies the project and ensures its success (communication: German or English).

Support and maintenance after project completion

Contract according to German law
L-One Damascus
Our offshore developer team
L-One Systems is based in Darmstadt, Germany. From here, we operate a modern office with fiber optic connection and solar panels in Damascus, Syria, that is "offshore".

Our Head of Software Development in Darmstadt leads the development team with his team leaders on site.

Why Damascus?

Damascus University trains highly qualified IT talents. Their degrees are recognized in Germany. The time difference is only 1 hour. This ensures smooth cooperation.

Get IT experts on board

Our hiring process is demanding. We can set high standards: L-One is one of the most attractive employers in Damascus. We attract the best talent - thanks to above-average salaries, exciting clients and a motivating corporate culture.
In intensive interviews and with technical tests we check expertise and experience. Those who want to work for L-One must speak English very well and prove that they are committed, responsible and team players.

We build the cultural bridge for you

Our German colleagues accompany you during the collaboration with our developer team and ensure the success of your project. You can find out more about how this works here: Our L-One Offshore Model. Read more about our offshore location in Damascus here: Our Offshore Developer Team.

Meet the L-One developers

In this video our Engineering Manager Kinana Rimawi talks about success factors in software development and explains, how she coordinates a L-One development team as an engineering manager: Watch video now!
L-One Interview
Meet our offshore developers
How does the collaboration with L-One work? What is particularly important to our Engineering Manager Kinana Rimawi in her project? And what are the success factors in software development? Kinana tells us all this and more in this short video. Watch it now!
Get off to a successful start with L-One
Start safely in four steps
With L-One, you can tackle your challenge professionally and cost-effectively – regardless of whether it's a capacity bottleneck or a new project.

The following four steps show you how to get off to a smooth and safe start with us.
In a workshop we dive deep into your business case. The L-One experts analyze your technical challenge. You will receive a professional assessment of your project and recommendations on how best to approach it. Learn more about the L-One Tech Assessment now.
Risk-Free & Flexible Contract
The workshop has convinced you? Then we conclude a contract for the next project phase (e.g. technical concept or development). The duration is flexible. You can flexibly control the size of the L-One team depending on the project phase.
In 4 to 6 weeks, we select the developers who have the ideal technical qualifications for your project. If necessary, we draw on the L-One talent pool in addition to our team.
We organize the onboarding of the development team – and your project takes off! Our Customer Relations Management in Darmstadt accompanies the cooperation and ensures a successful cooperation. This is an important part of our L-One Offshore Model. It ensures your project's success.
Get a free professional assessment of your technical challenge.

We advise you without obligation on how to successfully master your technical challenge.

You will receive tips on how to make the most of the potential of offshore developers and how to work successfully with an IT service provider.
L‑One Systems Blog
Discover professional articles and insights from our IT experts
In our blog, you'll learn what makes for successful software solutions, how to successfully work with an IT service provider, and much more.

Are you ready to achieve your goals?

Send us a message now! We'll get back to you personally within 24 hours.

Benefit from our many years of experience: Since 2012, companies have been developing, modernizing and scaling their software solutions with L-One - reliably and cost-efficiently.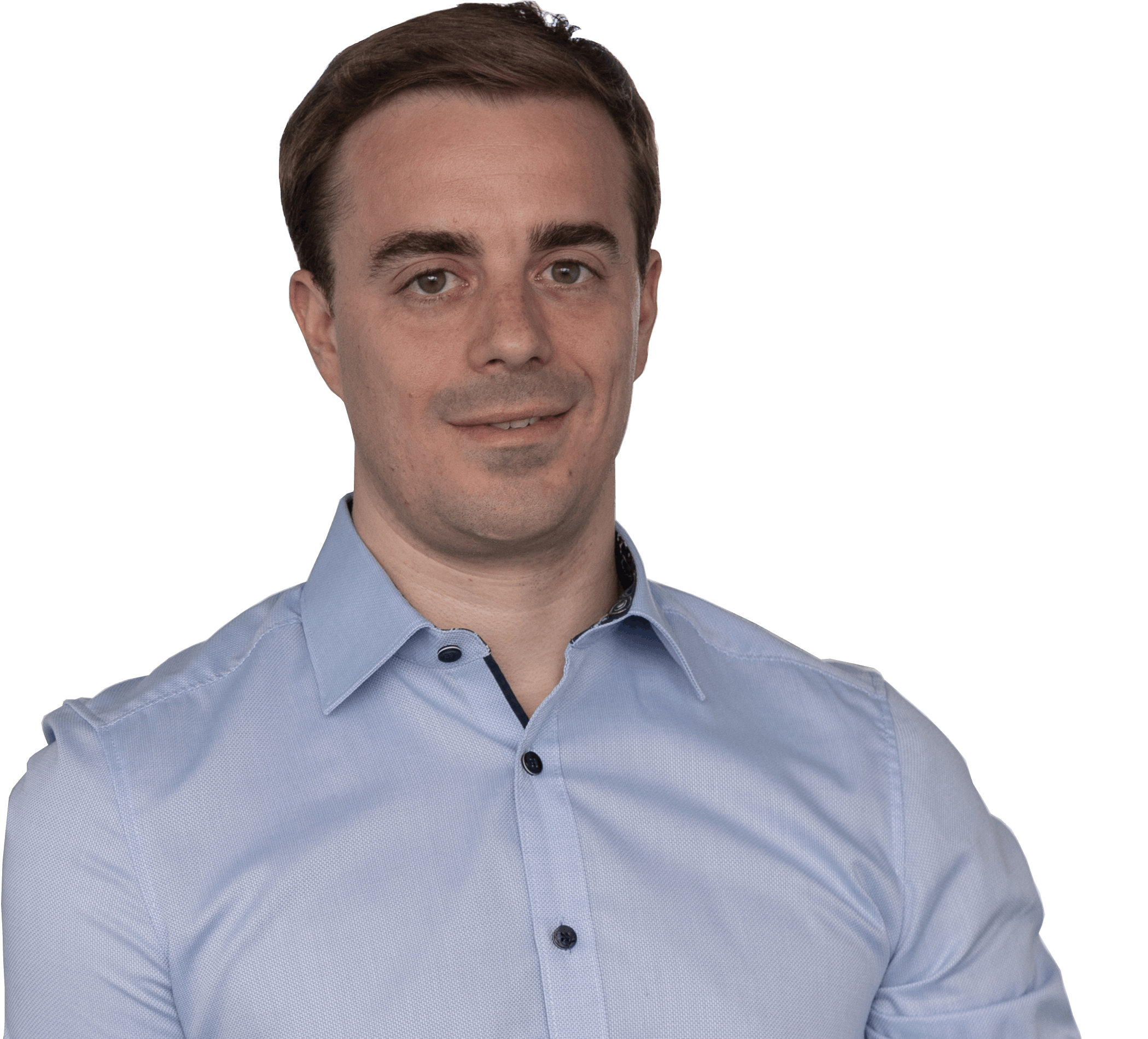 Lionel Born
CEO & Founder
L-One Systems