Get to know our offshore development team
We build the bridge to top IT talent for you
L-One Systems is based in Darmstadt. In 2018, we established a development team at a barely developed offshore location: in Damascus, Syria.

From there, the L-One IT experts work in dedicated teams on software projects for and with our customers - in a modern office with fiber optic connection and its own solar power system. Since its foundation, our offshore team has been growing steadily.

Offshore Development - managed in Germany

Our German team accompanies all customer projects and ensures their success. Our Head of Software Development, Feras Tanan, manages the L-One offshore development team from Darmstadt and visits the site regularly.

Our Head of Customer Relations Valerie Dietsche accompanies our customer projects and ensures their success.
Our Head of Software Development Feras Tanan is based in Darmstadt. As an experienced system architect, he ensures that our offshore team develops high-quality software according to German standards. For this purpose, the native Syrian is regularly on site in Damascus.

Our Head of Customer Relations Valerie Dietsche accompanies your project and ensures its success.
⌚ Only 1-hour time difference, perfect for close collaboration.

🎓 Damascus University trains highly qualified IT talent. Their degrees are recognized in Germany.

💶 The model is a win-win situation: cost-efficient daily rates for our customers, above-average salaries for our developers. L-One is one of the most attractive employers locally, attracting the best talent.
🧑‍💻 This makes L-One one of the most attractive employers locally, attracting the best talent.

🌍 With L-One, you have a direct line into the country: Our German team works with Syrian colleagues on a daily basis.

🛬 Our Head of Software Development visits our development team regularly.


Our daily rates are convincing
Profit from attractive daily rates - thanks to our L-One offshore model. The German L-One team accompanies your project at no extra charge.

Simply request and receive daily rates in a few minutes by mail.
Building the cultural bridge – how does that work?
Adhering to deadlines and processes, addressing problems openly: What we take for granted can lead to misunderstandings when working with offshore developers.
To make sure this doesn't happen, we at L-One build the cultural bridge for you: Our Head of Software Development trains new team members in the Western work culture. Afterwards, he regularly evaluates the developers' performance.
"The development process with L-One is very structured. But the development team also responds quickly to our ad hoc requests and implements decisions at short notice."

Laura Stephan, Product Manager at Solorrow
about working with L-One (to the Case Study)
New members of our offshore development team are trained in Western work culture.
Introducing our offshore development team
The L-One team ensures successful cooperation with technical expertise and commitment. The IT experts from Damascus approach challenges with great commitment and always work in a customer-oriented manner.

Want to know more about the people who will be working on your project? In this short video, our front-end developer Marah Daher introduces herself. She talks about how the collaboration in her customer project works, what she values in her work and much more. Watch it now!
We rely on expertise, commitment and team spirit
The way software developers work already plays an important role in our hiring process. Anyone who wants to work for L-One must have professional competence and a willingness to perform. In addition, applicants must prove that they are committed, responsible and team players. These are important values of the L-One corporate culture.

"The high level of motivation, new ideas, and a lot of enthusiasm have enabled us to make successive progress and thus ensure the success of the project."

Stefan Anton, Managing Director of EASY-ROB Software
about the project with L-One (to the Case Study)


Valerie connects your IT team with the L-One development team
In addition to our Head of Software Development, our Head of Customer Relations, based in Darmstadt, builds the bridge between customers and L-One development teams. She ensures the success of your collaboration with L-One:

So sichert sie den Erfolg Deiner Zusammenarbeit mit L-One:
She organizes the onboarding of the developers and accompanies your project.
She is in contact with your in-house IT team/project manager and the L-One developer team and makes sure that both sides know how to work together optimally and which goals they pursue together.
She supports both sides in establishing processes that enable easy collaboration.
She accompanies the collaboration. In case of questions or problems, our customers can always contact her.
Since 2019, our Head of Customer Relations Valerie Dietsche has been supporting our customer projects from Darmstadt and ensuring their success.
How the German L-One team ensures success
With our "team extension" service model, your in-house IT team works closely with a dedicated L-One developer team.

Our colleagues in Germany accompany you in the cooperation with the developers and ensure smooth communication between both teams. If problems occur, we solve them for you.

Here you can learn more about the L-One Offshore Model. You can also find out how we can support you if your company does not have the capacity or technical know-how to manage the dedicated L-One developer team itself.
(Click to enlarge) See how your IT team works with the dedicated L-One development team and how we support you in this graphic.
Good communication is crucial for success
At L-One, we only hire developers who speak English very well. Moreover, we support our offshore developer team to train and further improve these language skills on a regular basis.
The time difference to Damascus is small: it is only 1 hour during summer time and 2 hours during winter time. Therefore, L-One developers easily adapt to your meeting culture.
"The developers at L-One are reliable, professional and act independently. If content sometimes gets lost in translation, they make sure that even non-developers understand complicated issues."

Laura Stephan, Product Manager Solorrow
about working with L-One (to the Case Study)
Find out how our customers work with their dedicated development teams in our case studies. Take a look now:
Find Programmers easily – Case Studies L-One
Why a hotel is ideal as an office
The L-One office in Damascus is housed in a former hotel. The advantage is that each dedicated team has a separate room there.
There, the developers work on their joint customer project, exchange ideas and communicate remotely with your in-house IT team via your communication channels.
Your own solar power system and a fiber optic connection ensure a reliable power supply and a good, stable Internet connection.
Your dedicated team of developers will work intensively on your business case and vision during the onboarding phase.
Use our expertise: Free of charge & without obligation
Get a professional assessment of your technical challenge from Lionel Born, CEO L-One.

He will advise you on how to successfully master your technical challenge.

You will receive tips on how to make the most of the potential of offshore developers and successfully collaborate with an IT service provider.
Introducing our offshore development team
Get to know our full-stack developer, Anas Laham Karaki, in this short introduction video. Anas provides insight into his work process, values, and experience working with clients on their projects. Learn what sets him apart as a developer and what he believes is critical to a successful collaboration with clients. Check it out now!
Are you looking for qualified offshore developers?
Our hiring process is demanding. We can set high standards: L-One is one of the most attractive employers in Damascus. We attract the best talent - thanks to above-average salaries, exciting customers and a motivating corporate culture.
We test professional competence and experience in intensive job interviews and with technical tests. Soft skills also play an important role: anyone who wants to work for L-One must speak very good English and prove that they are committed, responsible and a team player.
"Our biggest challenge in software development: finding developers who can quickly get to grips with existing code and develop new functions based on that. With the team of L-One we have found a good partner."

Michael Witzke, CEO of blink.it
about the partnership with L-One (to the Case Study)
Do you want to work with the same offshore developers in the long term?
We have established employee retention programs. Our developers enjoy working at L-One and for our customers - with expertise, commitment and team spirit.
If one of them plans to leave L-One, our proven handover process kicks in: We select a suitable developer in consultation with you and work him or her into your project. That way, things continue seamlessly.
If a developer from your dedicated team leaves L-One, the other team members will fully train the successor.
Do you want your development team to be at the cutting edge of technology?
We place a lot of emphasis on continuing education. In regular meetings, the technical teams (e.g. the backend team) exchange information on new tools, best practice examples and more.

Every developer has a personal development plan. Our incentive system motivates learning: Our Head of Software Development regularly assesses performance and experience levels together with his team. Those who perform well move up the career ladder.
FAQ – Dedicated offshore development teams from L-One Systems
What happens when a developer leaves L-One?

For every customer we build a dedicated team of at least two offshore developers. This way we build up long-term project know-how together with your in-house team - independent of individual developers. L-One manages this know-how for you. This means: If a developer from your team leaves L-One, the other team members will train the successor comprehensively. Your project continues seamlessly.
Do the L-One teams in Darmstadt and Damascus belong to the same company?
No, that is not possible for legal reasons. We have set up our own company for our site in Syria, with which we have concluded an exclusive contract: The employees of L-One LLC in Damascus work exclusively for projects of the German L-One GmbH. In return, the LLC is allowed to use the employer brand "L-One", which has a very good reputation in Damascus.

Is it employee leasing if the developers work so closely with us?

No, our service counts as a software development service, not as employee leasing. Although our dedicated developer teams work operationally directly with our clients' in-house teams and often attend internal meetings, they are employed by L-One. You only pay for the days the developers have worked for you. You don't pay for vacation and sick time - unlike your own employees. We take care of disciplinary and organizational issues such as training and salary. If necessary, in consultation with you, for example with vacation requests.
You have a question? You want to know how you can achieve your software development goals with us?

Send us a message now. We will get back to you as soon as possible. Thank you and see you soon!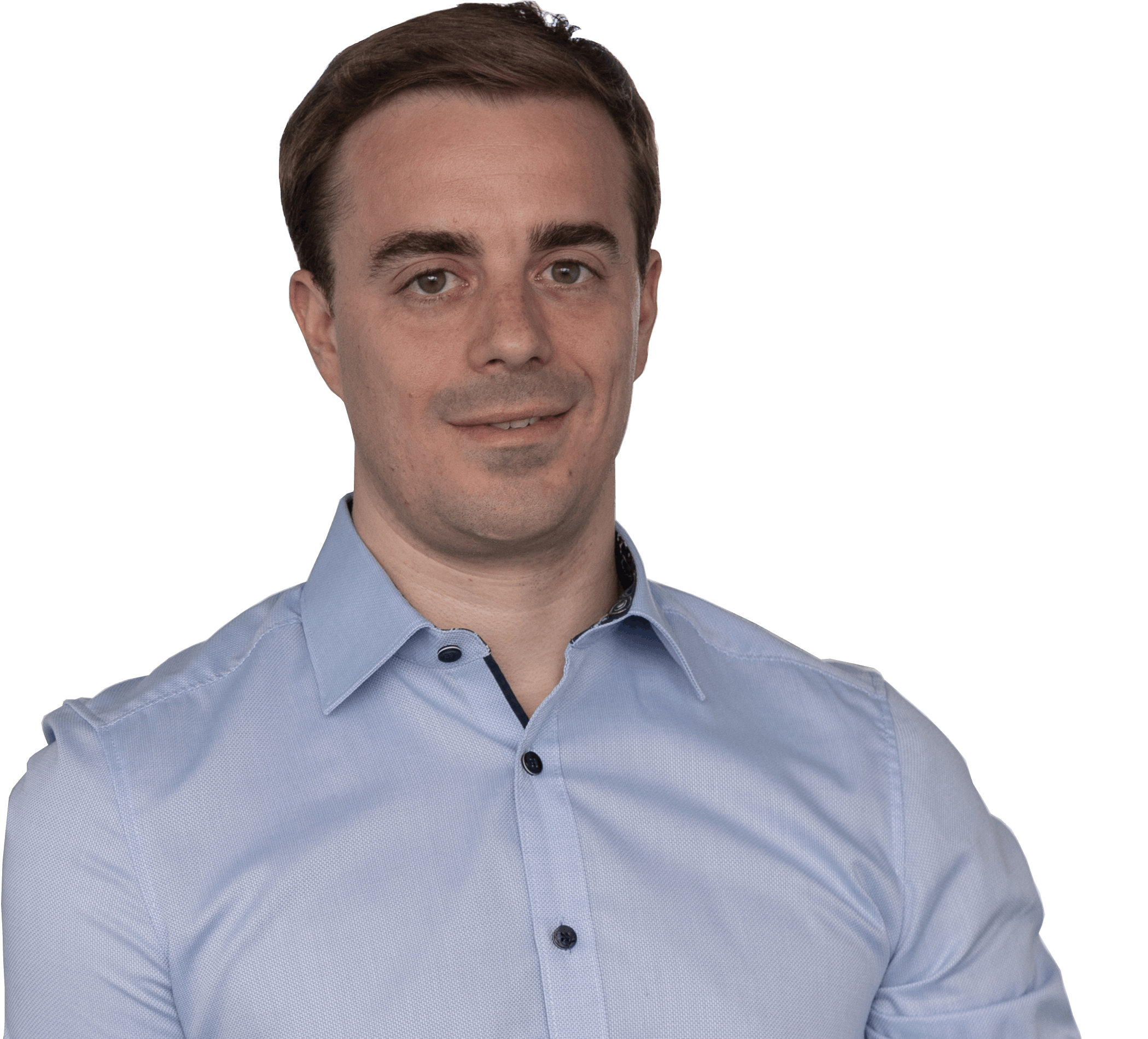 Lionel Born
CEO & Founder
L-One Systems